Seattle Pride in the Park Links
It's a Family Reunion
to Remember.
THANK YOU for joining us at Seattle Pride in the Park!
Below are all the links you could need to do everything from access the Accessibility Guide for today's event, purchase Seattle Pride Merchandise for 15% off, how to sign up for our eNews, a map of today's event, and so much more!
Seattle Pride in the Park Map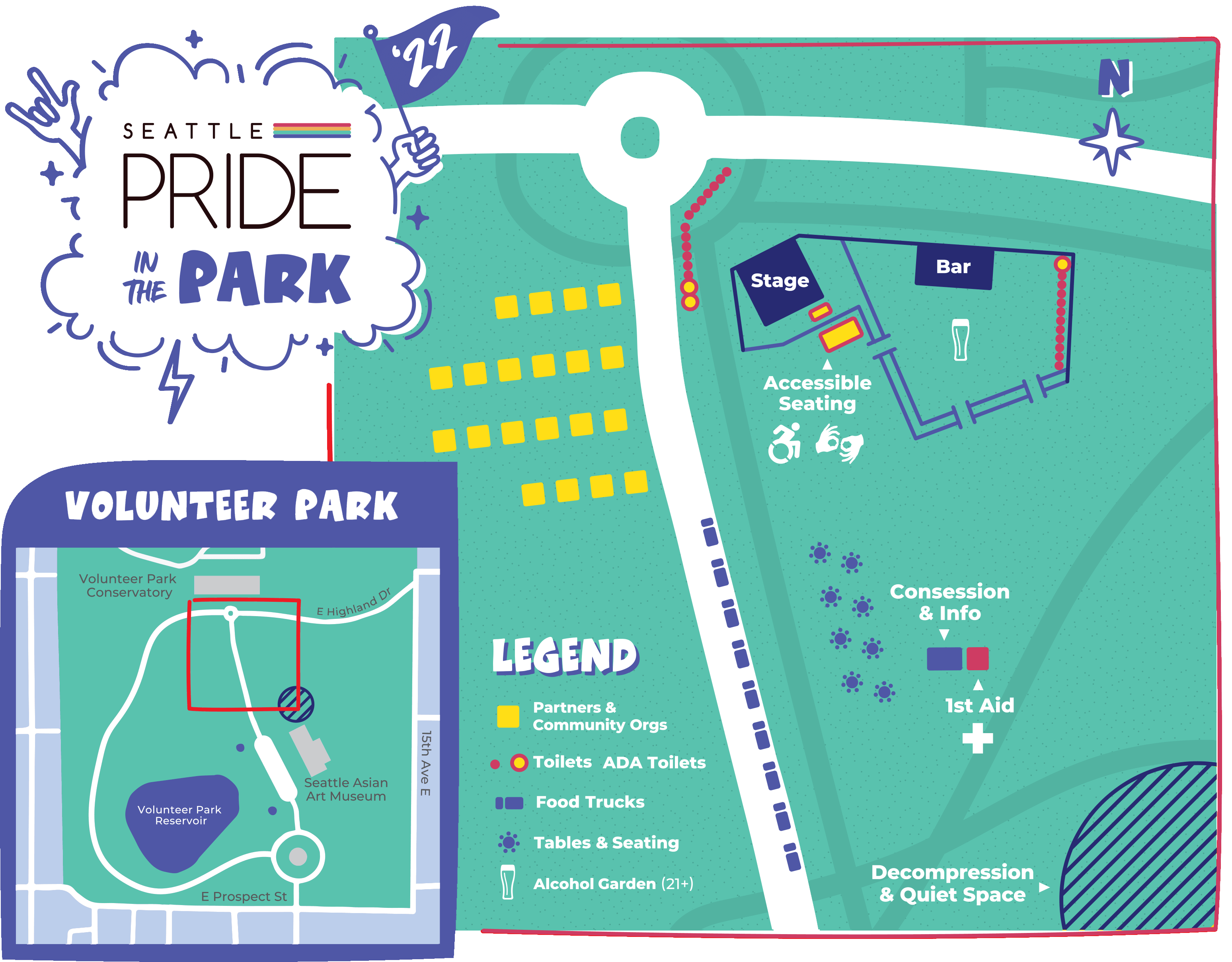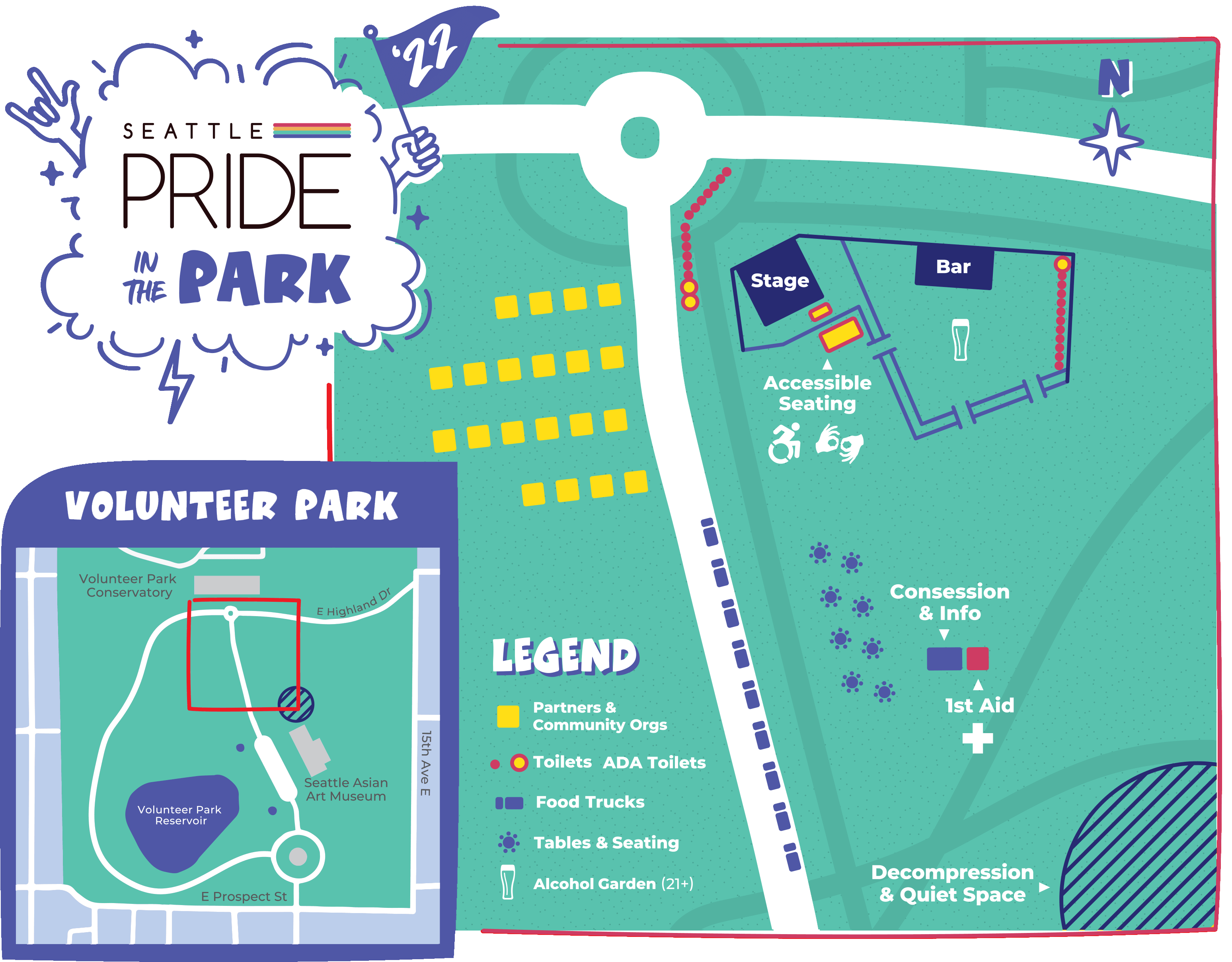 Check Out the Map!
Whether you're looking for the booths, food trucks, alcohol garden, 1st Aid tent, or anything else - we've got you!
Looking for Accessibility Services? Check in at the Info Booth!
2022 Seattle Pride "Family Reunion" Merchandise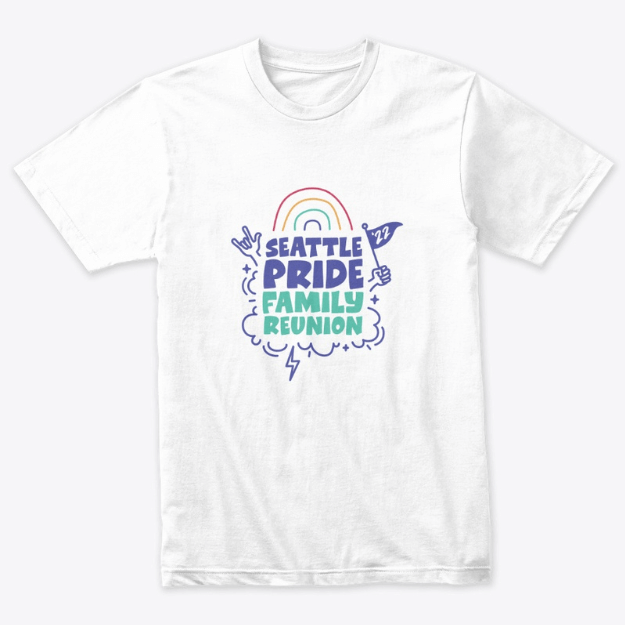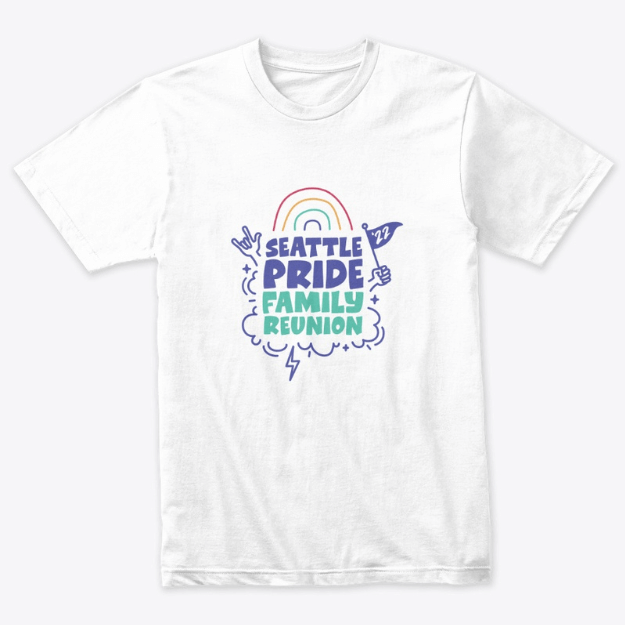 What Are You Wearing?!
Whether you're unsure what to wear to the Seattle Pride Parade on Sunday, June 26th, or just want limited edition 2022 Seattle Pride Family Reunion merch, we've got your back! (And front, and phone case, and stickers, and...)

EXCLUSIVE FOR SEATTLE PRIDE IN THE PARK ATTENDEES
Enter the code SEAPRIDE22 for 15% off of all online purchases during the month of June!

Youth & Children LGBTQIA+ Book List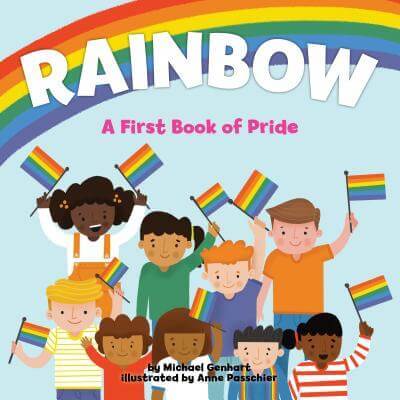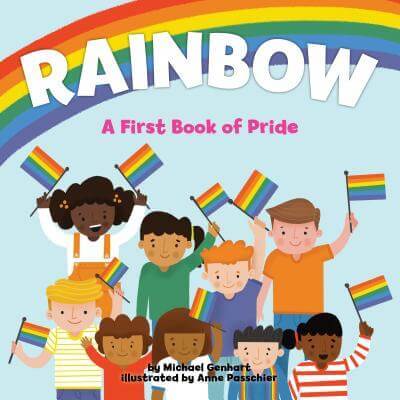 If you have been searching for age-appropriate books on the variety of topics in the LGTBQIA+ community, look no further!
Here is a list of books we have curated for you and the youth in your life, ages 0 - 18 years old, ready for you to dive into and explore. Here's to a greater acceptance and understanding at any age!
To Be Read at Seattle Pride in the Park
by Cookie Couture on Saturday, June 4th

"Bunnybear"
"Stella Brings the Family"
"Rainbow: A First Book of Pride"
Seattle Pride Links & Links & Links!
The Official Seattle Pride Playlist
Thanks to our partners at C89.5 FM, you can listen to over six hours of the best Pride jams all month long... and beyond!
To check out the list on Spotify, click HERE or the picture below.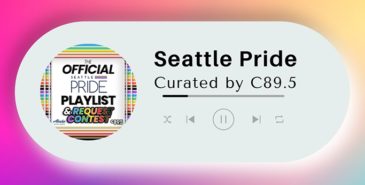 Seattle Pride Magazine: The Official Pride Guide
Looking for the latest in Pride Month happenings?
Love reading about LGBTQIA+ weddings, the history of the Pride flag, finding LGBTQIA+ resources, and more?
Check out the Official Pride Guide issue of the Seattle Pride Magazine!

Click HERE to access the electronic version.
Click HERE to see a list of locations where you can pick it up in person... or visit the Info Booth at Volunteer Park during today's festivities!
Click HERE to receive the quarterly Seattle Pride Magazine in your mailbox, by becoming a Protector of Pride!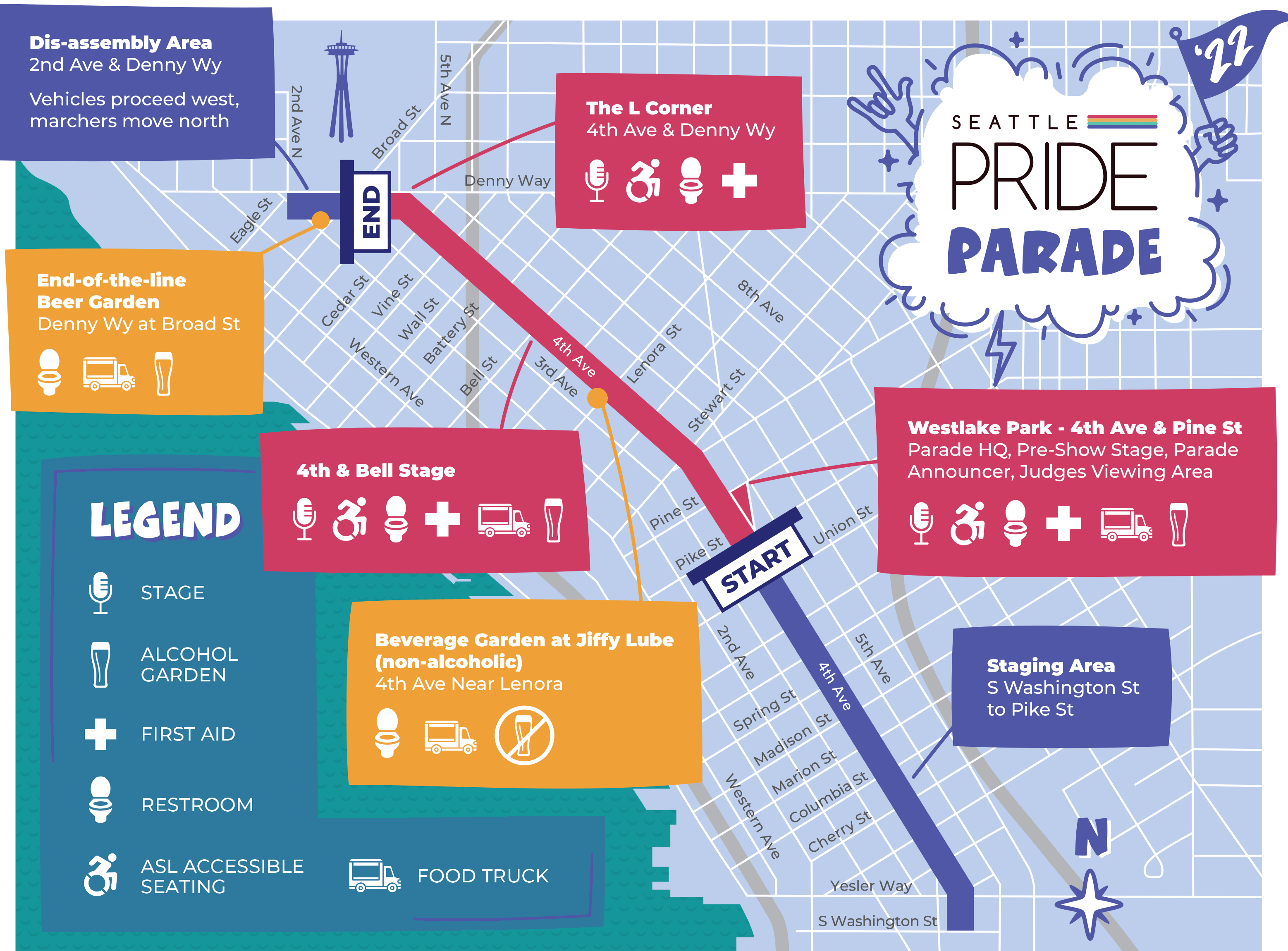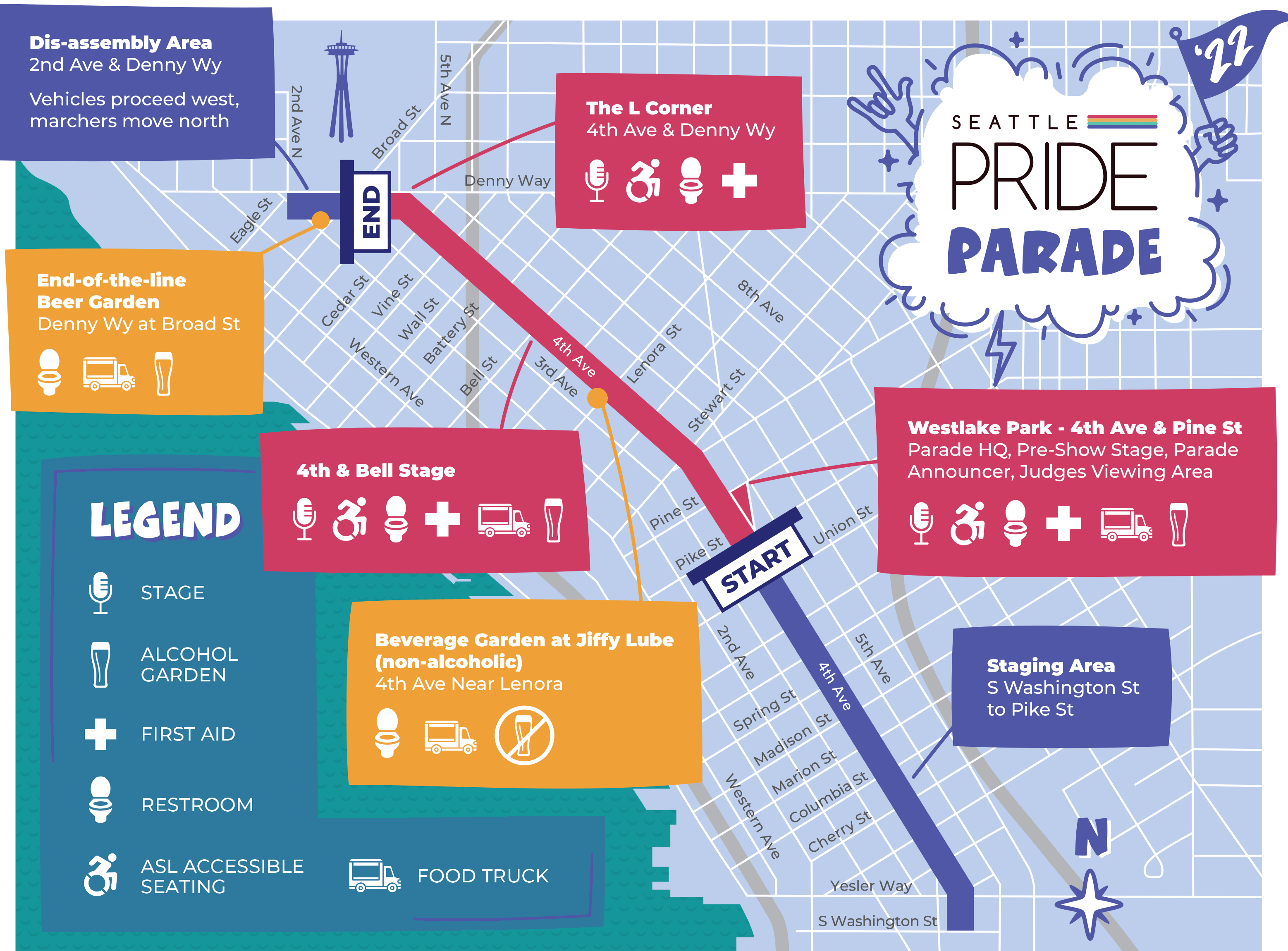 SEATTLE'S OFFICIAL
Seattle Pride Parade:
Sunday, June 26, 2022


Join over 400,000 of your closest friends and family on Sunday, June 26th at 11AM for the return of the Seattle Pride Parade!\
Read on for more information, including:
How to purchase grandstand tickets
How to volunteer

Call for frontline workers
Grandstand Seating
There are grandstand seats available for purchase along the parade route!
To claim your seat (and save your feet), click HERE.
Free ADA Priority Seating is available at all three stages.
Reparations Model
BIPOC attendees can use promo code "FamilyReunion" for a 50% discount.
Seattle Pride does not assume BIPOC attendees do not have access to wealth. It is our way of working to address the historical and ongoing damage to the Black, Indigenous, and other communities of color.
Volunteers Needed!
We can't do what we do without our amazing VolunQUEER Team!
We rely on hundreds of volunteers each year—not just for our Pride events, but also for our year-round efforts to elevate the LGBTQIA+ community in Seattle and beyond. Without you, there would be no pride.
If you would like to volunteer with us, simply:
Head to our Volunteer Profile by clicking HERE.
Want to help out with the Seattle Pride Parade? Fill out the form above, and then fill out our June Event Volunteer Intake form by clicking HERE.
Are you a Frontline/Essential Worker?
We are getting the family back together again after two long years for our 48th Annual Seattle Pride Month, and we're inviting our LGBTQIA+ frontline workers to join us as Community Grand Marshals at the front of the parade!

If you fall under the frontline worker category, we want you to join us at the Seattle Pride Parade! Registration is free and easy. Below you will find all the information you need to register.
● REGISTER HERE: 2022 Frontline Worker Registration
● Registration Deadline: Friday, June 10, 2022
Sign up for Seattle Pride eNews & Alerts
Advocacy Alerts:
For those ready to fight for their rights!
Donate!
We are committed to keeping our events as free and accessible as possible. Your donation helps us to do just that!
Click HERE to donate today!