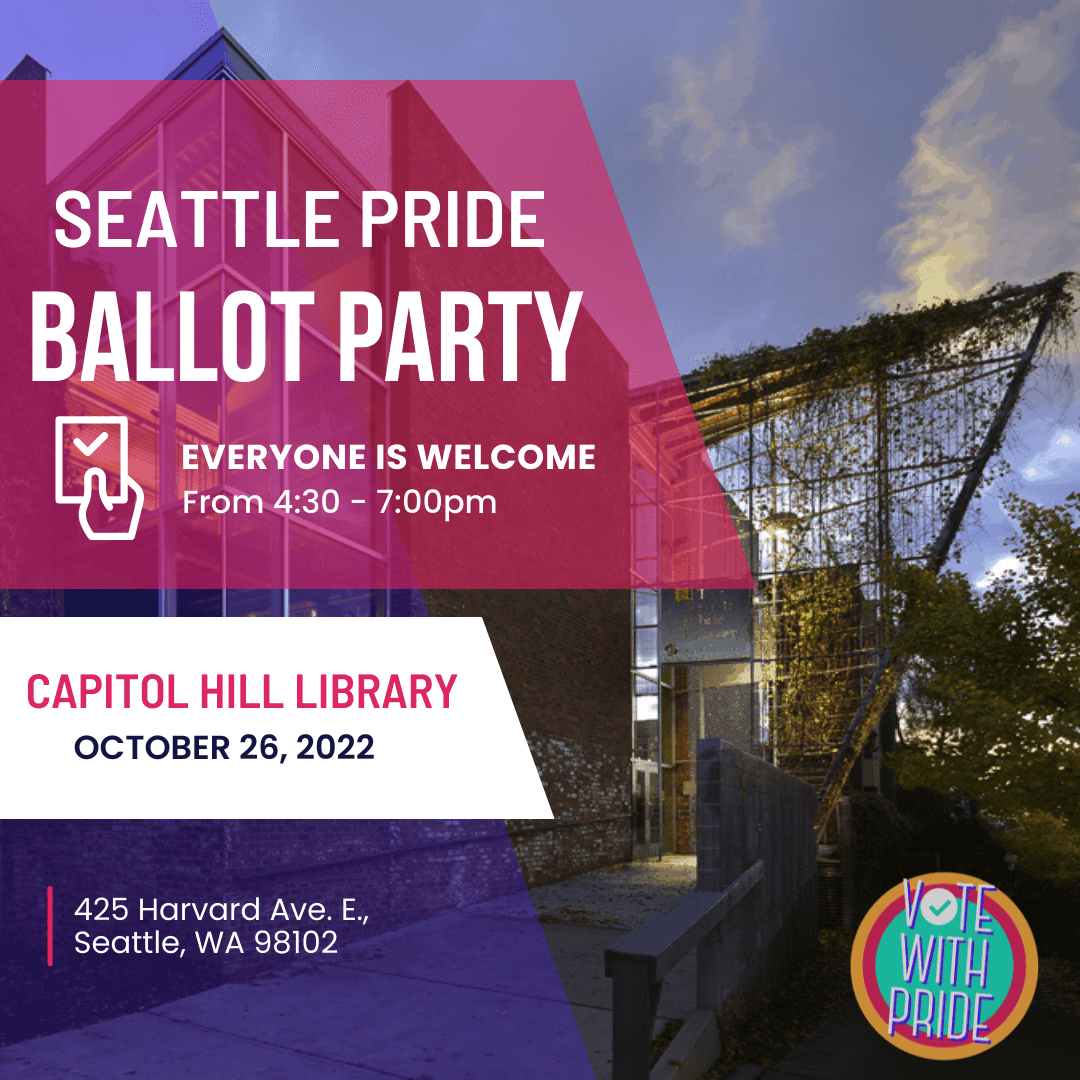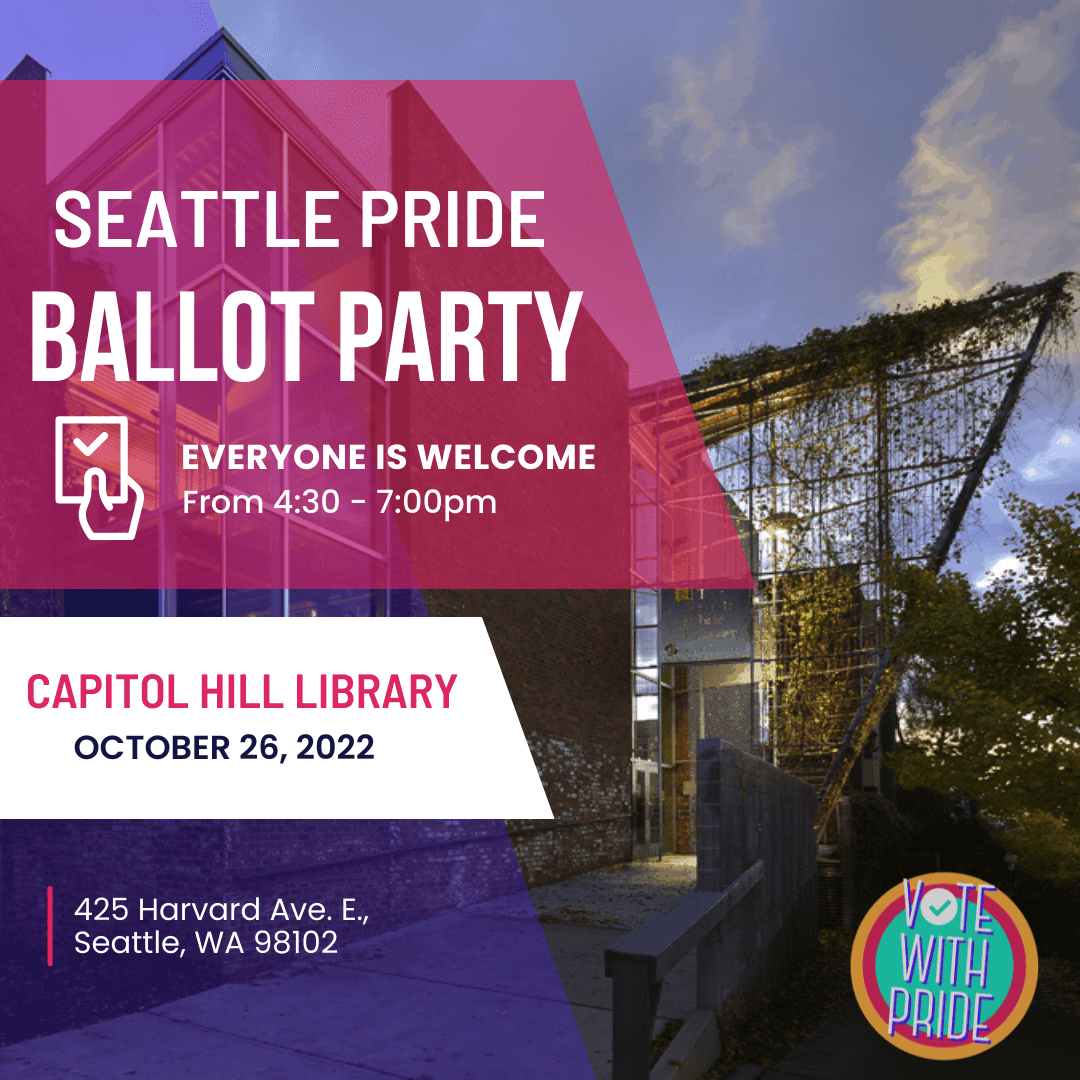 Event
Seattle Pride Ballot Party
Wednesday, October 26th | 4:30PM - 7:00PM | Capitol Hill Library
Learn More!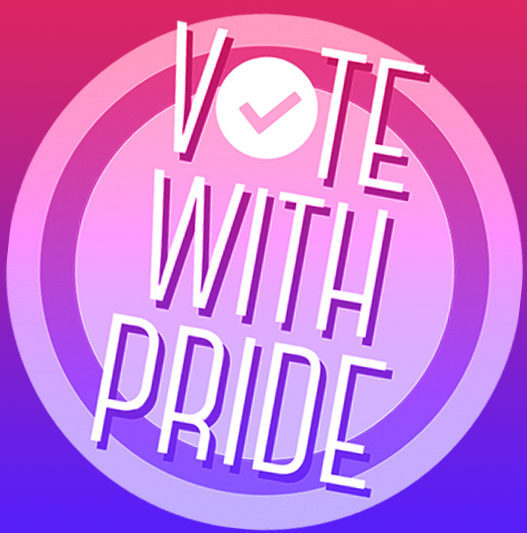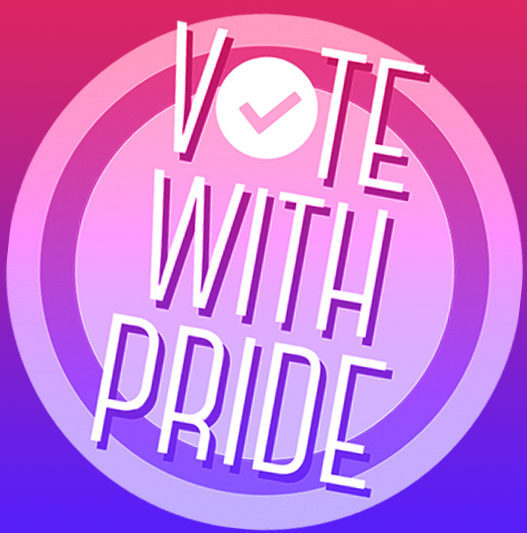 IT'S BACK FOR 2022!!
Vote with Pride
Nothing can beat the sweet, sweet satisfaction of voting... but we think you'll dig our Vote with Pride program, back for it's third year (what?!) that earns you a chance to win a pair of Alaska Airlines tickets and more Seattle Pride Partner swag just for doing your civic duty.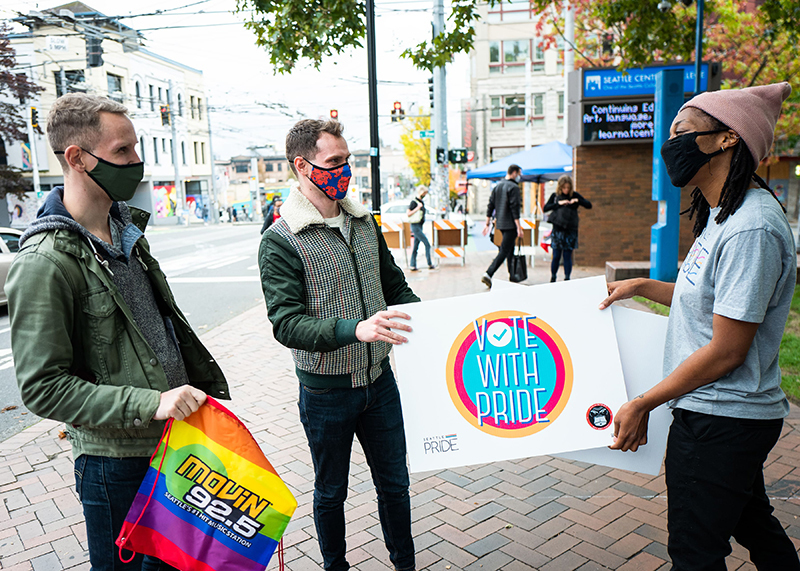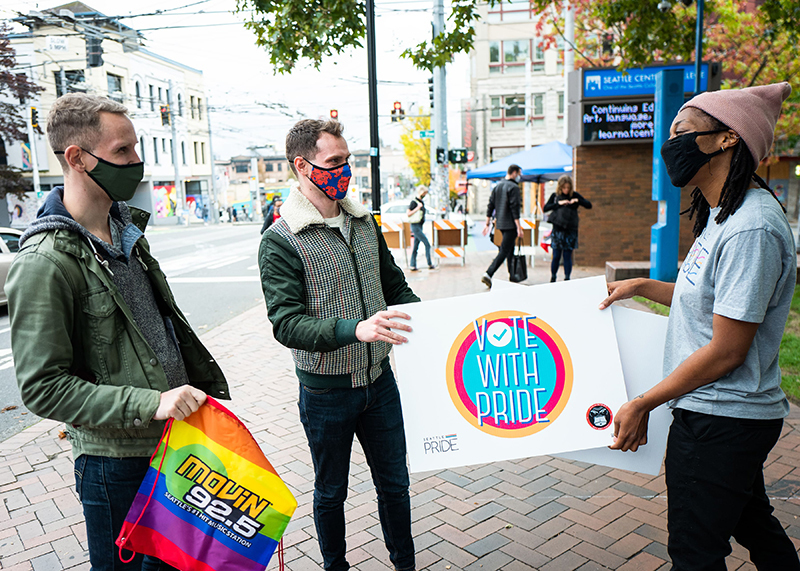 During a time when our communities and country are divided, we're out to remind people of the importance of this election and the importance of voting – my vote, your vote, every vote.

For the month leading up to the elections, there will be five week-long engagement activities for participants to submit online for the chance to win weekly prizes and culminating in a grand prize the final week. We also hosted a Vote with Pride (presented by Sealaska) kickoff on October 9th at All Together Now.

We have faith in the electorate. So we want everyone's vote to count, regardless of political affiliation – that's how true democracy works. All we ask is that people get informed on the issues and vote their conscience – and when that happens, we're confident that we'll beat hate, and divisiveness and ignorance every time.

Returning in 2022:
Seattle Pride Voter's Guide
Check out last year's:
Seattle Pride Voter's Guide
It's our goal to help voters who care about issues impacting our LGTBQIA+ community ascertain what candidates in the King County region align with their values.
As a 501(c)(4) nonprofit organization, we take our ability to engage in political activity seriously... and so should you.

LGBTQIA+: Lesbian, Gay, Transgender, Bisexual, Queer, Intersex, Asexual/Aromantic
Are you a King County Candidate?
We will invite you to fill out our short questionnaire in September. Your answers will be made public by sharing them on our website, and will be rated by Seattle Pride Staff, Board Members, and/or Volunteers according to an established rubric. Ratings are being assigned to help members of the public see where we believe candidates stand on issues important to the LGBTQIA+ community.

To see the questions, rubric and background information from 2021, click HERE.

Any rating by Seattle Out & Proud // Seattle Pride is not an endorsement.
Are you a Voter?
Well, you should be. If you aren't, click HERE to register to vote or update your voter registration.

WEEKLY QUIZ INFORMATION
Each week will have actions in these two categories: voter education and get out the vote.

Each question or task will have an objectively verifiable answer and will be worth points. The more points a participant accumulates during the week, the more times their name is entered into the drawing for the week's prize. Participants are able (and encouraged) to retake the survey as many times as they'd like to increase their scores throughout the week; the highest score will be used and the lower scores are thrown out.
Quizzes will start in October, 2022!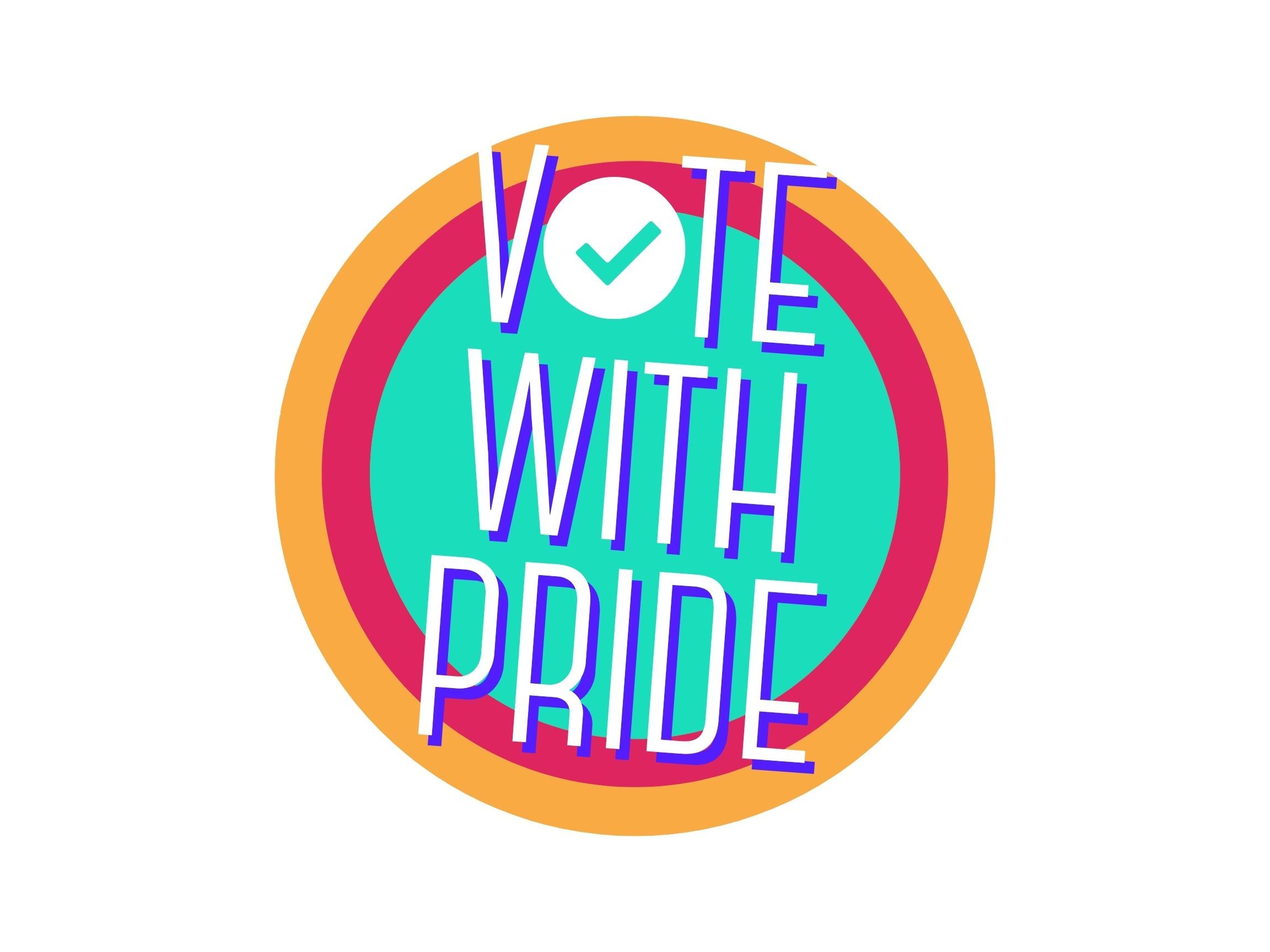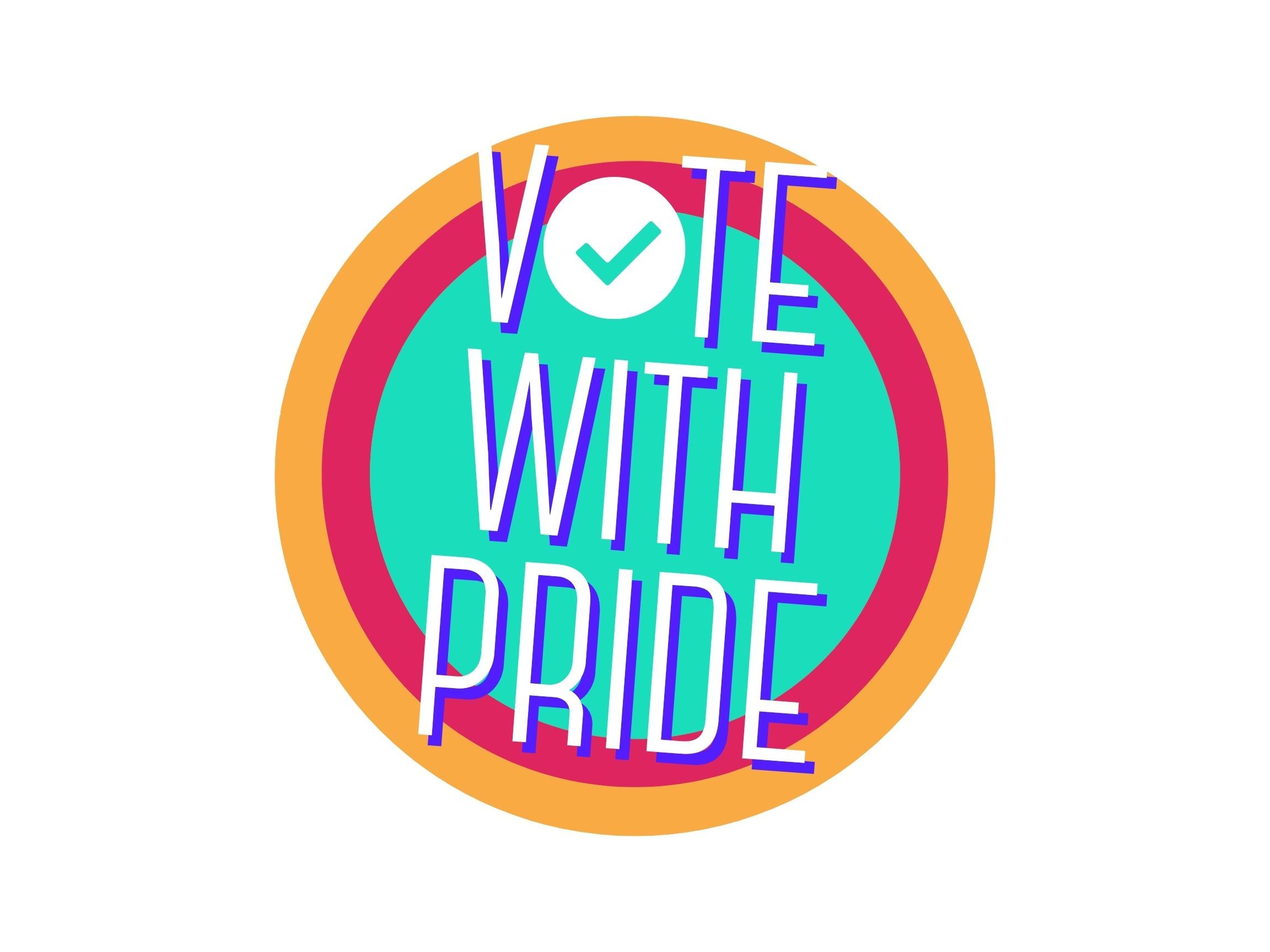 PRIZES, DRAWINGS & RULES
At the end of each week, there will be one prize drawing consisting of those who completed all of the weekly tasks. Each week will have a winner receiving a pair of round-trip airline tickets from Alaska Airlines.
The final Grand Prize winner will receive two round-trip tickets from Alaska Airlines, plus additional Seattle Pride and partner items.
Weekly quizzes must be submitted by their corresponding Saturday at 11:59PM PDT to be entered for weekly prizes.
Quizzes submitted after a week's closing date will still be entered for the Grand Prize.
No purchase required to participate.
VOTER REGISTRATION