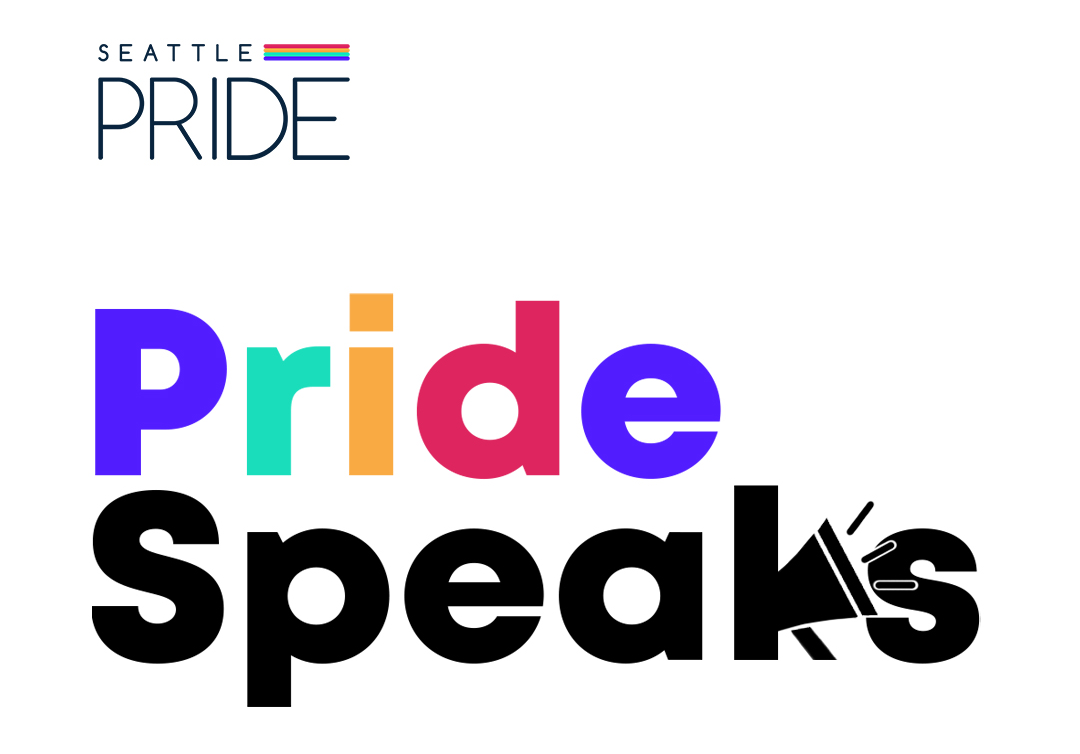 Events Seattle
Pride Speaks: Policy & Advocacy Strategy for 2023 - 2024
Seattle Pride
Pride Speaks is a recurring speaking series focused on various topics which impact our LGBTQIA+ community. Each session, Seattle Out & Proud Foundation invites experts and community members with lived experience to share their knowledge, reframe issues, and inspire action. After the panel discussion or talk, there's time for audience Q&A.
Join Seattle Out & Proud Foundation for a networking mixer and panel discussion at Chateau Ste Michelle. The evening will feature complimentary non-alcoholic beverages, wine tasting, and hors d'oeuvres during a casual community mixer, followed by a panel discussion with audience Q&A.
Please note this is an 18+ event
Our host will be joined by Nico Quintana (he/they), Mattie Mooney (they/them), Jupiter Peraza (she/her), and Li Nowlin-Sohl (she/her). Our panel experts will have an in-depth conversation on the current political landscape facing LGBTQIA2S individuals. Their knowledge and lived experience will help reframe issues and identify policy or advocacy strategies in 2023 - 2024.
Date: Thursday, November 17, 2022
Community Mixer: 6PM - 6:50PM PST
Panel Discussion: 7PM - 8:30PM PST
Please contact our team directly at programs@seattlepride.org if the ticket price of this program is cost prohibitive. Low-cost and no-cost tickets are available.
This event is sponsored by Chateau Ste Michelle's BLENDED PRIDE employee resource group.
To purchase your ticket, please click here.
Event Accessibility Guide linked here.
Panelists
Nico Quintana (he/him, they/them), Lead Attorney at Lavender Rights Project
Nico is a transgender, non-binary, indigenous and Latinx defense attorney and abolitionist. Nico is a lead attorney at LRP specializing in criminal legal defense work. Prior to coming to LRP, Nico was a Public Defender at King County and provided legal defense representation and support to people accused of crimes. Before working as Public Defender, Nico was a policy advocate and community organizer with Basic Rights Oregon and the DC trans Coalition. Nico loves cooking amazing food, spending time with his Great Dane puppy, and being out in nature.
Jupiter Peraza (she/her), Social Justice Activist, Political Strategist, and Organizer
Jupiter Peraza is the former Director of Social Justice & Empowerment Initiatives at The Transgender District in San Francisco, CA. During her time at the organization, she wrote and introduced legislation to preserve and commemorate transgender history in San Francisco - most notably the nation's first Transgender History Month. Jupiter also spearheaded a resolution initiating landmark designation of the Turk & Taylor Streets Intersection in San Francisco's Tenderloin - the heart of The Transgender District and the site of the Compton's Cafeteria Riots of 1966, which are considered the first large-scale act of resistance of Black and Brown trans and queer individuals against police violence in the United States. Prior to her work with The Transgender District, she was Director of Community Initiatives at Manny's - a civic space in San Francisco's Mission District - where she co-organized and co-led nightly programming on social justice and advocacy issues, led a national virtual phone bank during the 2020 Presidential Election, and organized over 1,000 San Franciscans to phone bank, sent over 1 million text messages and write 25,000 letters to the swing states of Florida and Michigan in support of Joe Biden and Kamala Harris. Ms. Peraza's advocacy prominently highlights her intersectionality as a DACA-mented trans Latina. Earlier this year, Jupiter Peraza graduated from the Women's Foundation of California Dr. Maria Solis Policy Institute Fellowship. In March of 2022, Jupiter Peraza was recognized by CA State Senator Scott Wiener as Senate District 11 Woman of the Year.
Li Nowlin-Sohl (she/her), LGBTQ Rights Attorney
I am an attorney with the American Civil Liberties Union (ACLU) LGBTQ & HIV Project, where I work on LGBTQ rights issues across the country. My work includes challenging state bans on gender affirming medical care for transgender youth, laws excluding transgender students from playing school sports, and discriminatory dress codes. In addition to my day job, I am a long-time board member of the QLaw Foundation of Washington State and a volunteer with QLaw's LGBTQ and Transgender legal clinics.
Mattie Mooney (they/them), Coming Soon
Can't make it in person? No problem! Video will be available afterwards on our YouTube page.