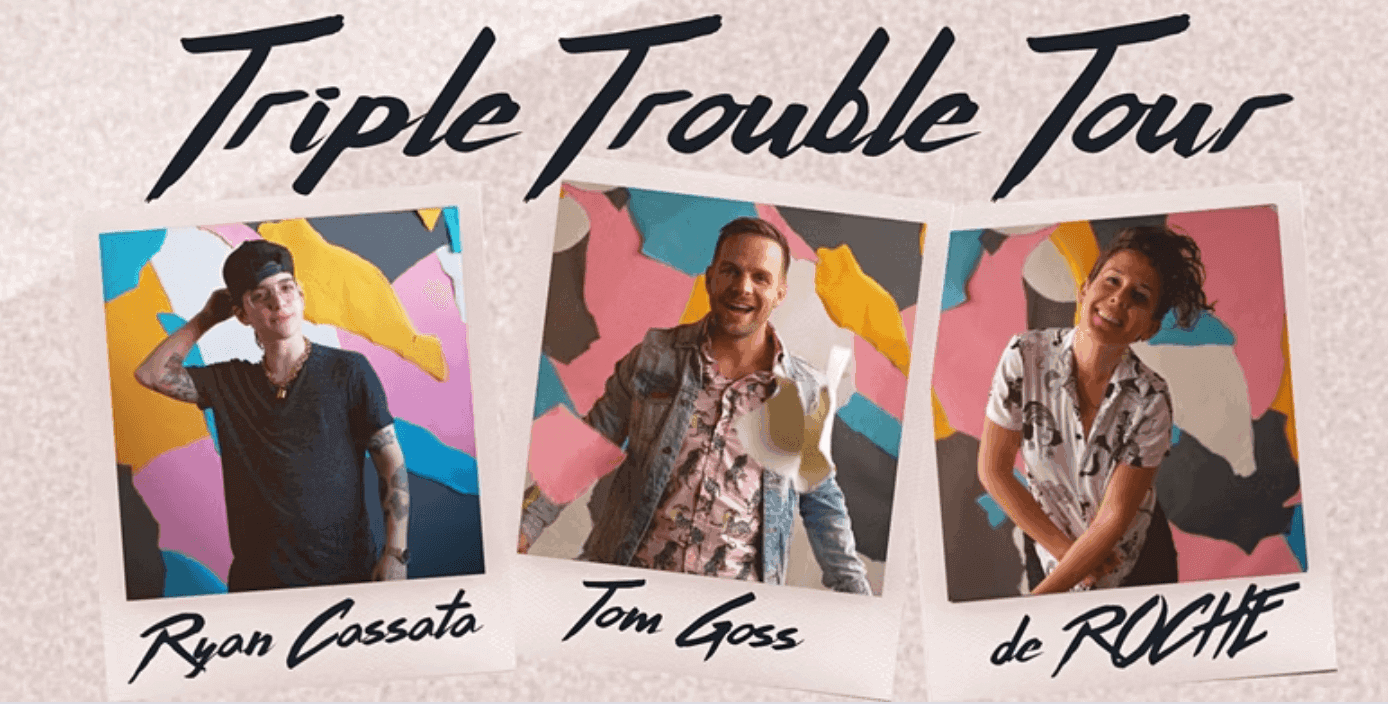 Events Seattle
EVENT PASSED: Triple Trouble Tour: Ryan Cassata, Tom Goss, and de ROCHE
Seattle Pride
Organization: Otter Bar and Burger
Date: Sunday, July 17th
Time: 3PM - 5PM
Location: 2379 Eastlake Ave E, Seattle, WA 98102
Cost: $15
Learn More: https://www.eventbrite.com/e/t...
RYAN CASSATA is an award-winning singer-songwriter, actor, performer, published writer, LGBTQ+ activist and motivational speaker. Featured on/in GRAMMY.com, Rolling Stone, Billboard, The New York Times, Buzzfeed, AltPress, American Songwriter and The NY Daily News, Ryan has worked hard to advance his career, beginning at age 13.
With over 600 performances nationwide and internationally and seven original and critically-acclaimed musical albums, Ryan is proud to be recognized as the first openly-trans performer at the Vans Warped Tour, in addition to featured performances at Jazz at Lincoln Center, The Oregon Shakespeare Festival's Green Show, Global Pride, the world's biggest pride festivals, and SXSW in Austin, Texas. Praised by The Advocate Magazine- Ryan has been praised as a "Transgender singing sensation." Paper Magazine has also included Ryan on their "50 LGBTQ Musicians You Should Prioritize" list, and LOGO's New Now Next included Ryan on the "9 Trans Musicians You Need To Get Into" list. Billboard Magazine has referred to Ryan as a "true force in the industry," honoring him as one of the esteemed "11 Transgender & Non-Binary Musicians You Need to Know" while premiering his award-winning music video "Daughter," garnering over 1M views on Youtube and 1M Streams on Spotify. Ryan's music has been featured on Sirius XM Radio, BBC Radio 4 and various other broadcast channels worldwide. Ryan Cassata is the proud recipient of The ASCAP Foundation 2019 Mariana and Paul Williams"Sunlight of the Spirit" award, presented to an individual considered exemplary in recovery and music creativity for his song, "Jupiter." Ryan's self-written and self-produced album, Magic Miracle Mile, released October 2021, charted on the iTunes Alternative Charts.
Ryan is the first ever recipient of the Harvey Milk Memorial Award, has been recognized by United States Congress, and has enjoyed many televised appearances on notable news channels such as CNN, The Larry King Live Show, and The Tyra Banks Show.
Committed to educating the global community through music, film, print, TV and in-person speeches, Ryan most enjoys shedding his optimism, light, positivity and experience of being a proud transgender man while highlighting the adversity he has faced throughout his journey. Ryan continues to share his inspiring message of hope and acceptance via his social media platforms and at venues across the nation.
TOM GOSS is a veteran singer-songwriter who blends a soulful voice and atmospheric soundscapes in expertly crafted songs about the joys and struggles of modern love.
A prolific writer and performer, Tom has released seven albums and played thousands of shows across the US, Canada, and Europe to dedicated fans. He has been compared to Twin Shadow, Mat Kearney and Wye Oak -- but with a distinct perspective shaped by his unusual history. A college wrestler turned Catholic seminarian turned polyamorous gay troubadour, Tom sings about disillusionment, desire, and hope in an intimate yet relatable way.
Tom's songs have been heard on ABC, HBO and Univision, and his inventive music videos have been viewed more than 17 million times. He has shared a stage with performers as diverse as Andy Grammer, Martha Wash, Taylor Dane, Adrianne Gonzalez, Matt Alber, and Catie Curtis, and he enjoys a particularly strong following in the LGBT community.
'Moving…Incredible' – The Huffington Post'
Tom Goss…uses his music to share important messages.' – Upworthy
'Addictive and upbeat' – MuseMuse
de ROCHE: A lover of adventurous and voracious pop, de ROCHE mines emotional depths for rock-solid songs that range from soulful electronica to hot folk. A new solo project from drummer, keyboardist, and singer Liz DeRoche, it's the culmination of two decades in the music industry as a band member (The Pushovers, Cane & The Sticks), producer, studio musician, teaching artist, and record label manager.
As de ROCHE, Liz mixes synthy smoothness with a raw emotionality to create an idiosyncratic style that she bravely embraces. With 2021's release of Big Let Down, she serves up tender yet strong songs based on real heartache and other revelations from a wanderlustful life.
"It's the emotional impact I'm looking for," says Liz. "I want to make meaningful music that people will take very personally."