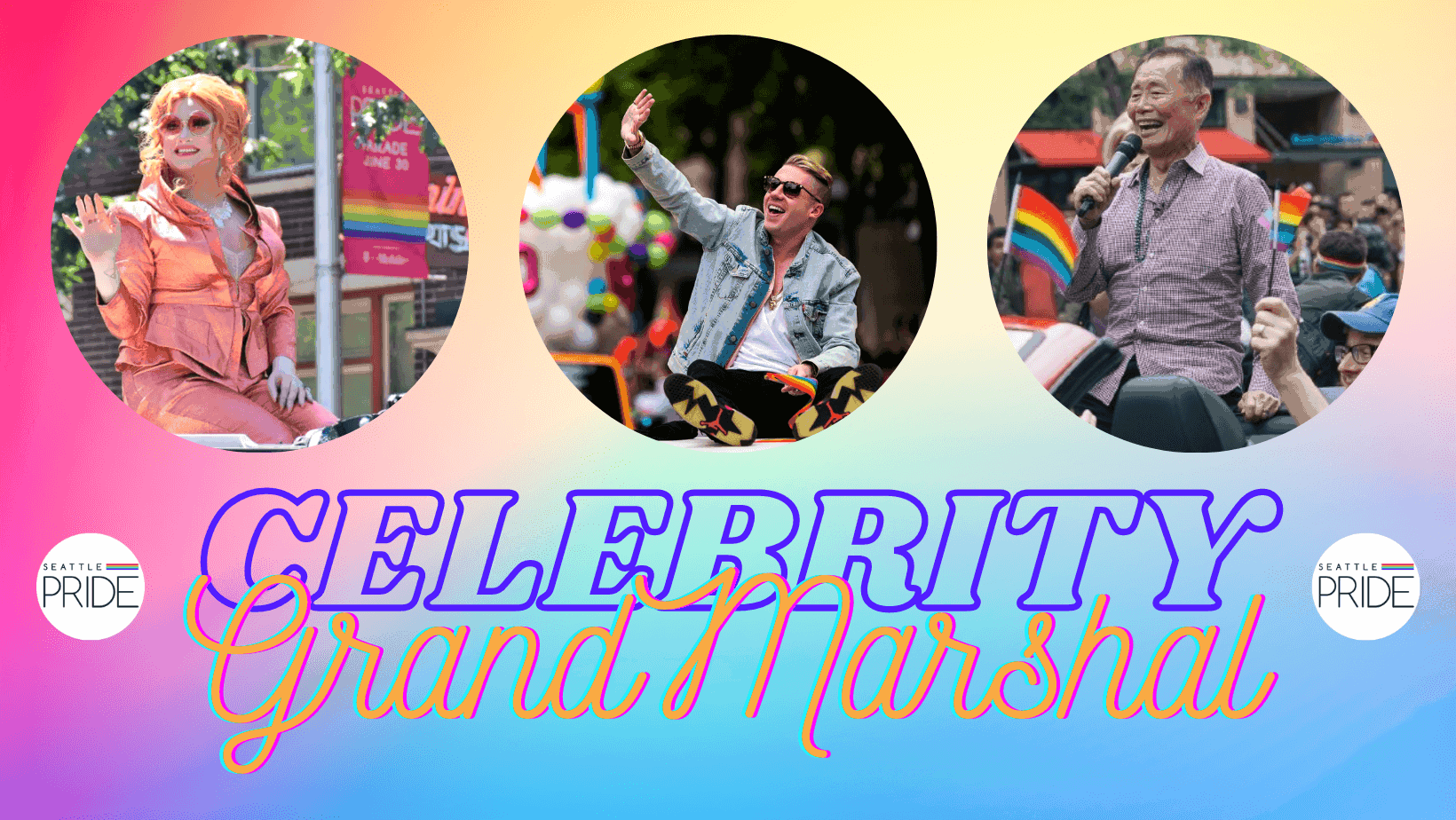 Pride Month
,
News Seattle
Submit Your 2023 Seattle Pride Parade Celebrity Grand Marshal and Theme Suggestions
Aug 24, 2022 | Seattle Pride
The Seattle Pride Parade requires year-round planning, so while Pride Month is still in our rearview mirror, we are turning our attention to next year – and we need your help. We are currently looking for suggestions for the 2023 Pride Parade theme and celebrity grand marshal.
After this year's memorable "Family Reunion" theme, we are starting early by seeking theme and celebrity grand marshal ideas from our community. Send us your suggestions at bit.ly/PrideNominations2023, and be sure to keep an eye out for our separate call for community grand marshal nominations (to be voted on by our community) early next year.
What is a grand marshal?
A grand marshal is a ceremonial position that is honored to lead the parade. A grand marshal can be anyone, but we are looking for a celebrity who is preferably a member or strong ally of the LGBTQIA+ community. To provide the best representation of the community we serve, we are asking you to give us your suggestions. There are no wrong answers so fire away! Previous Seattle Pride Parade grand marshals included George Takei, Macklemore and Jinkx Monsoon.
What makes a parade theme?
A parade theme can be anything but for our purposes, we really want the next Seattle Pride Parade theme to embody our community. In 2022 we saw the theme "Family Reunion" come to light as a nod to the in-person homecoming of our community after the pandemic led to two years of online events. We would love to hear your ideas for a theme that lives up to the hype of next year's parade and provides a good representation of our community and the times.
Keep an eye out.
Beyond our call-out for suggestions for the 2023 celebrity grand marshal and parade theme, we will also be asking for suggestions for our community grand marshal in the coming months. In addition to the celebrity grand marshal, a community grand marshal will lead the 2023 parade. Community grand marshals are members or allies of the Seattle LGBTQIA+ community who embody Pride and everything it stands for while working to better our city and its people. A community grand marshal doesn't have to be a household name, but rather a major player in our community.
We are excited to hear your voices and select a theme and grand marshals that truly reflect the people we serve! Keep checking in as we update the website with announcements, news and events related to the Pride Parade and all things LGBTQIA+.