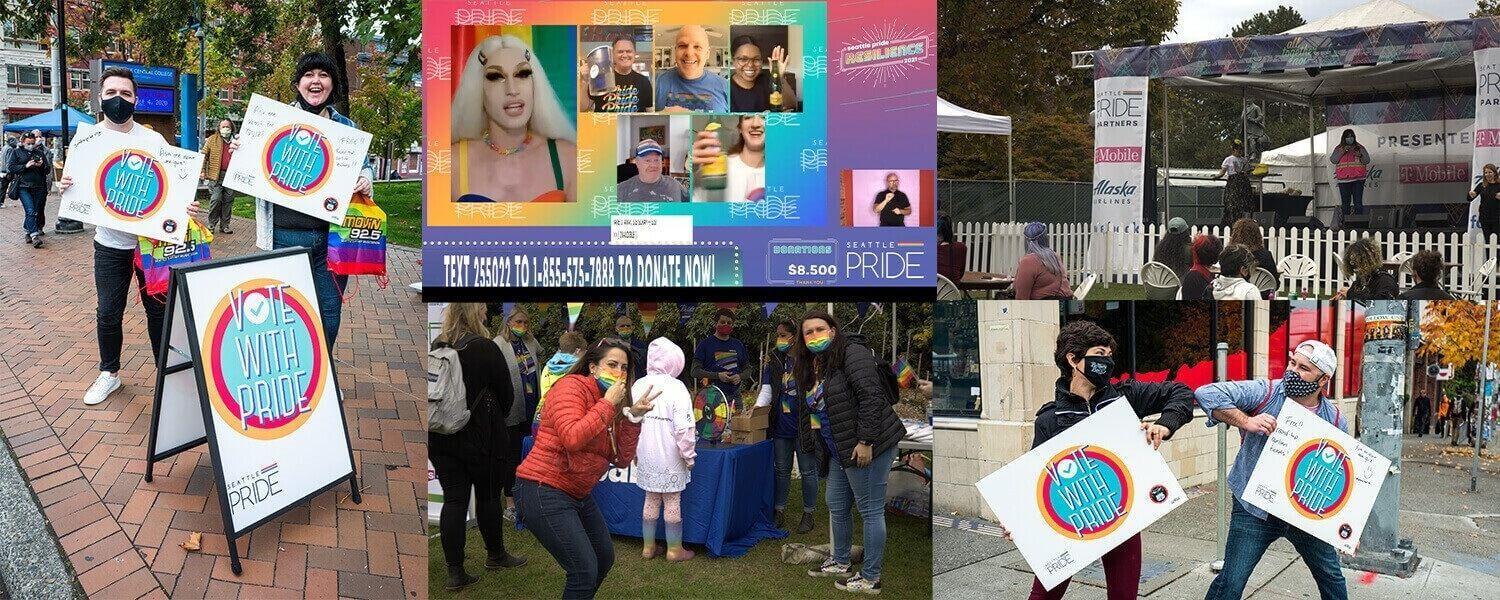 Pride Month
,
News Seattle
Looking Back and Looking Forward: What Has Changed Since the Seattle Pride Parade 2019
May 27, 2022 | Seattle Pride
The year was 2019. It was a simpler time then. Oh, how easy we had it. If only we had known what was to come - and what was to change. Skip to 2022 and our present-day world is no longer the same. Our community has seen a lot of changes both for better and for worse since our last Seattle Pride Parade in 2019.
Politics
Over the past few years, the LGBTQIA+ community has seen political achievements. A new, more accepting president in Joe Biden was nominated in 2020. Though President Biden's support of LGBTQIA+ rights has had a rocky past, it is clear that he will continue to support the current and future rights of our community. Another first in LGBTQIA+ politics came in 2021 when Pete Buttigieg became the first openly gay Cabinet member in U.S. history to be confirmed by the Senate.
Sports
Locally, Seattle gained a new sports team in the time between our two in-person parades. Sports fans saw the Seattle Kraken hockey team hit the ice in 2021 for their inaugural season. There is no lack of LGBTQIA+ sports in Seattle with a number of teams competing, including Seattle Quake Rugby Football Club, Cascade Football, and Rain City Soccer Club. We've also launched our Out to Play initiative, in which we aim to get more of our LGBTQIA+ community out and enjoying local sports games in a fun and supportive environment.
LGBTQIA+ Bars and Gathering Places
Seattle has sadly lost some great LGBTQIA+ watering holes since our last Pride Parade. Many of the classic bars and nightlife that once made Seattle's LGBTQIA+ nightlife so vibrant have been permanently closed. Re-Bar, a classic spot for music and drinks, closed for good during the COVID-19 pandemic. In 2021, The Lumber Yard Bar was hit by an arson attack that left the bar unsalvageable. Fortunately, the bar plans to reopen in a new location this summer.
Corporate Participation in Pride
In March 2022 Amazon was exposed for its anti-LGBTQIA+ actions and was subsequently dropped as our partner. This came after we decided to evaluate all our corporate partners, with an emphasis on presenting (higher-level) partners, to ensure they are of the highest caliber and actively support – and do not harm – our community. Through this evaluation process, we learned that Amazon made financial donations to politicians who oppose pro-LGBTQIA+ and other human rights legislation, and for allowing anti-LGBTQIA+ organizations to raise funds from their AmazonSmile program.
Community Stability
The COVID-19 pandemic has altered humanity's course and will leave a lasting impact on every community for the foreseeable future. It shut down our in-person events for two years, and has hit the pocketbooks of the LGBTQIA+ community particularly hard. LGBTQIA+ households were more likely to be in financial trouble due to the COVID-19 Pandemic than non-LGBTQIA+ households.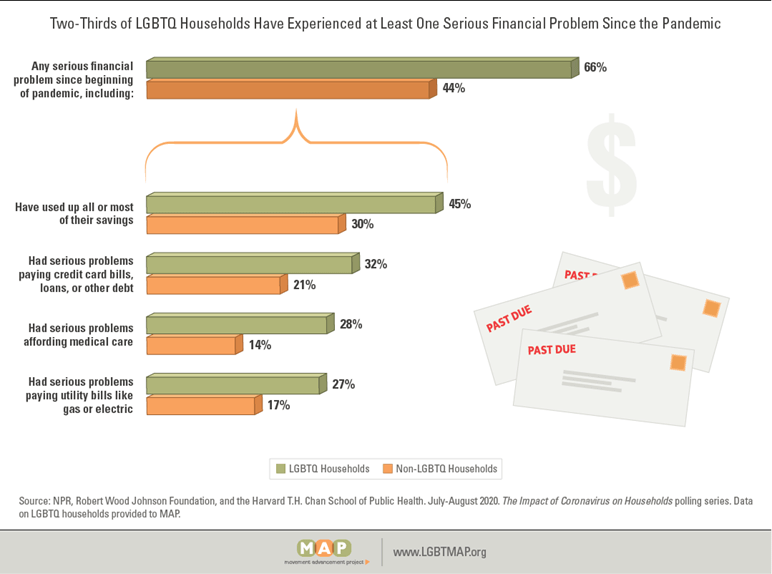 LGBTQIA+ Rights and Activism
Our community has seen many changes since our last in person parade, yet one thing remains the same, our rights continue to be attacked. A recent leaked Supreme Court draft opinion stated that, if adopted, would mark the overturn of Roe v. Wade - the case which guaranteed the right to an abortion. An attack on the rights given by Roe v. Wade could have an impact on the rights given in other landmark cases. The threat of overturning long-standing rights such as abortion bleeds into LGBTQIA+ rights. Now, Obergefell v. Hodges – which legalized marriage equality in 2015, doesn't seem so concrete. This is why we need your help. In a marginalized community such as ours, activism is always needed. We must continue to fight for our rights to ensure a bright future.
As Pride Month approaches, we must continue to work towards creating a more equal future. Yes, there is work to be done, but we have accomplished so much. Let us celebrate these accomplishments and come together in June for Seattle Pride in the Park and the Seattle Pride Parade. It's been a wild two years, but we're back!