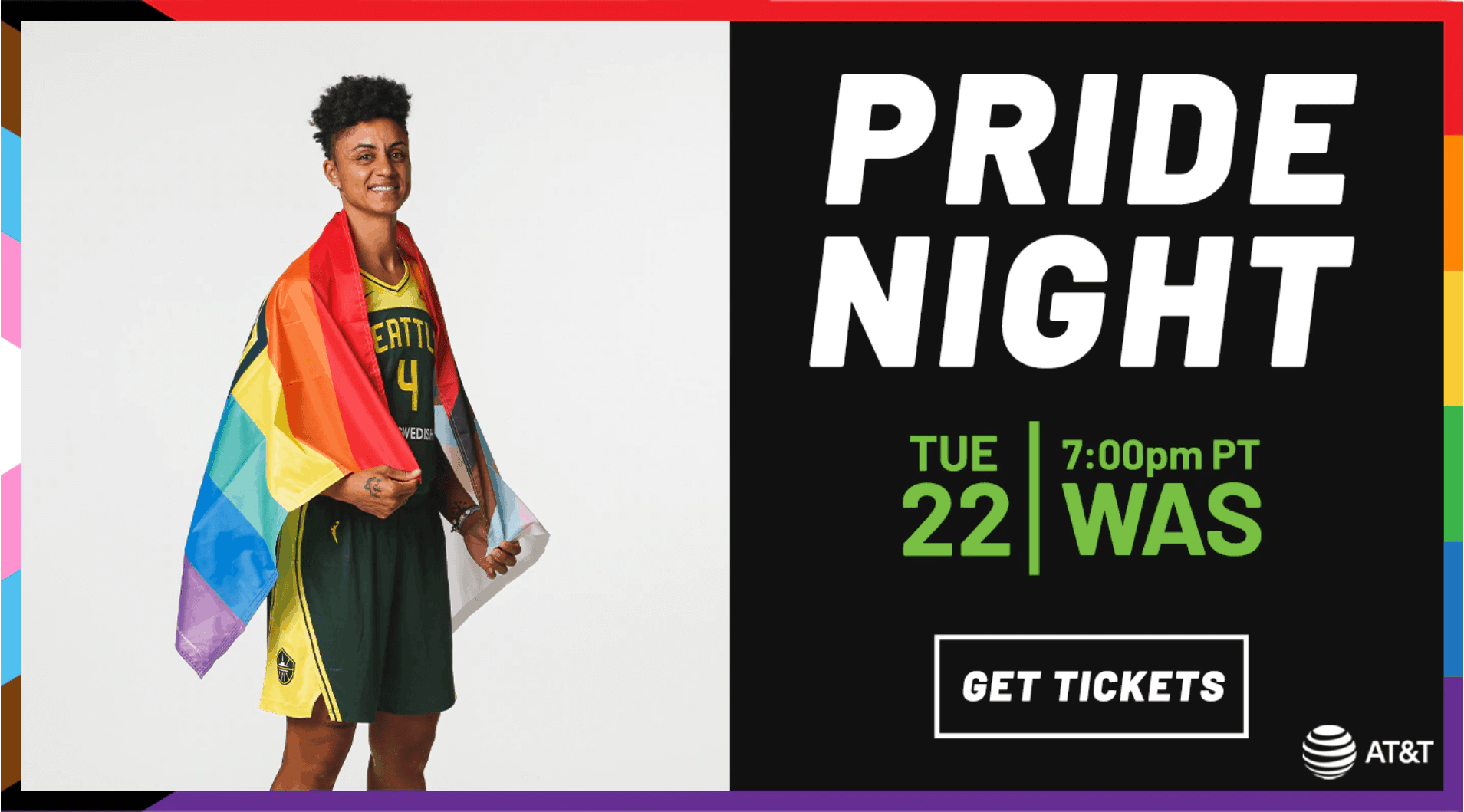 Community
Seattle Storm is Celebrating Pride Night on June 22nd.
Jun 17, 2021 | Seattle Pride
This is a Guest Post by The Seattle Storm

The Seattle Storm will host Pride Night presented by AT&T on Tuesday, June 22 as it takes on the Washington Mystics at Angel Of The Winds Arena in Everett, WA. The game will tip off at 7 p.m. PT on JOEtv. Pride Night is an event under the Storm Force4Change platform, and will highlight advocacy and support of the transgender community—with special focus on its youth.
The Storm will launch a Pride merchandise line on June 11 and will donate proceeds from the sales to Lambda Legal—the largest national legal organization that advocates for the recognition of the civil rights of lesbians, gay men, bisexuals, transgender people and everyone living with HIV through impact litigation, education and public policy work. However, the merchandise sales revenue is not the sole source of financial contributions from the Storm's Pride celebration.
Force 10 Hoops—the Seattle Storm's all-female ownership group—will match up to $25,000 of the final amount raised by merchandise sales through the Storm Foundation and Force4Change. AT&T will add $5,000 to the total and the Storm front office will contribute an additional $1,500 gift.
"At the Storm, our collective heart beats in synch with our advocacy for social change. To expand our impact, we partner with and amplify the work of organizations and people who share our vision for change. That's why Lambda Legal is at the center of our Pride celebration this year," said Ginny Gilder, co-owner of the Seattle Storm. "Their lawyers and staff are indefatigably fighting for equitable treatment for the LGBTQ+ community, especially the vulnerable trans youth population. That's what life is all about: creating positive change wherever you are on the field of play. Kudos to LL, and thanks to them for their leadership."
"In this time when LGBTQ+ rights—especially the rights of trans youth to play sports—is under attack in many states, it's essential that fair-minded institutions take action to support those working for justice," notes Kevin Jennings, CEO of Lambda Legal. "We at Lambda Legal are deeply grateful to the Storm for their partnership and leadership."
Early in June, the Storm joined forces with other professional teams in Seattle to support a new gender-diverse toolkit created by the Washington Interscholastic Activities Association (WIAA) that looks to provide leaders involved in youth athletes programs across the state with appropriate language training to support transgender and non-binary young athletes. Now, by raising funds for Lambda Legal, the franchise's efforts extend nationwide.
"Lambda Legal is tremendously grateful for the support of the Seattle Storm, a four-time WNBA champion. The team's support will help us continue to zealously defend the rights of LGBTQ+ people and those living with HIV around the country," adds Sasha Buchert, Senior Attorney and Co-Transgender Rights Project Director at Lambda Legal. "The Storm's leadership comes at an especially important and perilous moment for transgender youth, who are under attack at every turn in state legislatures. With the franchise's teamwork, we will prevail in the court and on the court. We couldn't ask for more wonderful teammates."
The Pride merchandising line will feature four different items: an Equality T, a Storm Logo T with Pride, Bi and Trans Color logos, a Storm Logo Light Hoodie with Pride, Bi and Trans Color logos, and a Protect Trans Youth T. All are available for purchase now at SeattleStormTeamShop.com.
The Storm's tradition of celebrating and supporting the LGBTQ+ community dates back to 2000, when the franchise became the first Seattle professional sports team to host a Pride Night. This year marks the return of the Pride celebration with fans, as in 2020 it was observed at the IMG Academy, in Bradenton, Florida, where the WNBA held its "Wubble."