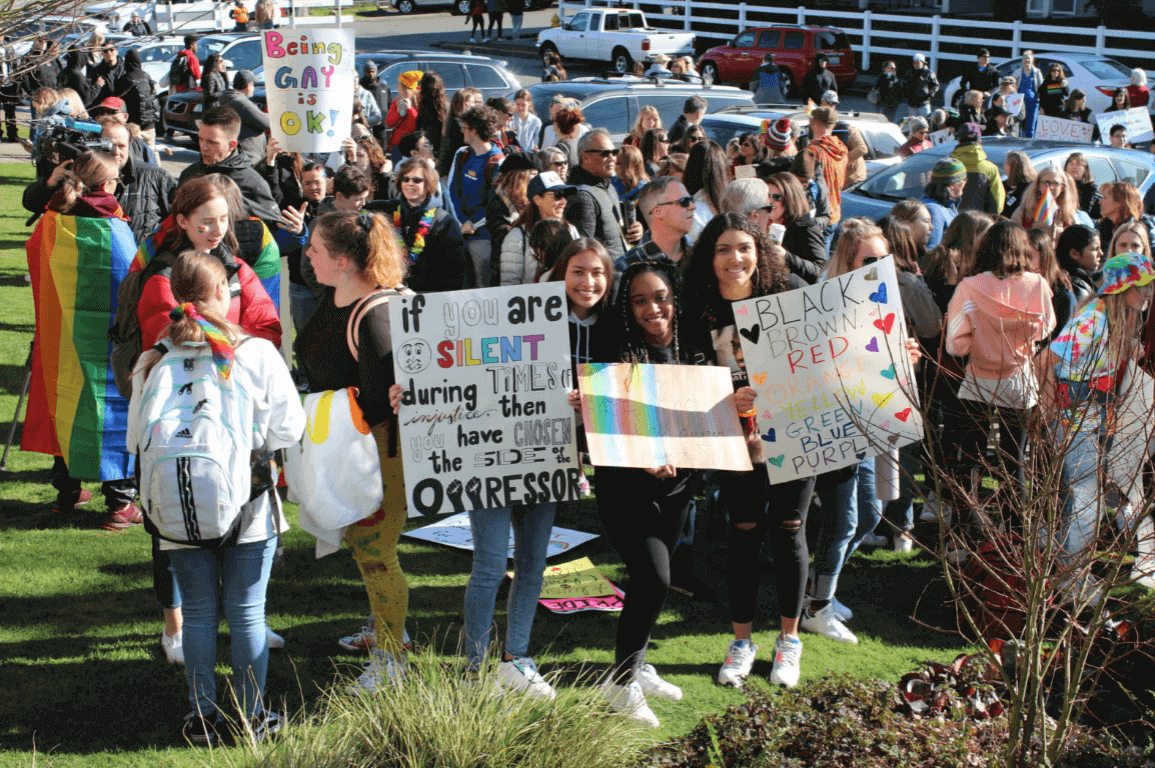 Community
Seattle Pride Magazine - Shockwave: How Kennedy Catholic Students Stood Up to Seattle's Archdiocese
Jun 17, 2020 | Seattle Pride
As featured in the June 2020 issue of Seattle Pride Magazine, available for free at businesses in Seattle and online.
"Activism and social movements are the moral compass of implementing positive change in private institutions like schools" Says Student Leader
For years young people have been speaking out on issues important to their generations, from military action to civil rights, and from gun control to climate change. And if anyone ever wondered about the impact of these voices, just ask the Archdiocese of Seattle.
It began in Burien on Thursday, Feb. 13th, when a decision was made at John F. Kennedy Catholic High School which sent shockwaves through the student body. The Seattle Times and other news outlets later reported that English teacher Paul Danforth and health teacher/girls soccer coach Michelle Beattie were told their contracts would not be renewed for the coming year after the school and Archdiocese learned both were engaged to their same-sex partners. Both subsequently resigned.
Never flaunting their lifestyle at school, both Mr. Danforth and Ms. Beattie were highly regarded by the students. ASB Secretary Emiliano Hernandez, an 18-year-old senior, regarded them as his "unofficial counselors." Hernandez says, "I could go to them with anything you could ever imagine. If I had a bad day, they could always uplift me…always give me good advice. They were the equivalent of a best friend."
The sudden dismissal and quick exit of Mr. Danforth and Ms. Beattie spread through the student body like wildfire on social media. Within hours, students and parents alike were trying to get to the bottom of what happened.
The student body quickly mobilized to stand up for their beloved teachers. "She (Beattie) was like a second mom to me," said senior MJ Estacio, 17. "Both have done so much for me and supported me throughout my years at Kennedy. So I felt like it was my responsibility to fight for them now."
This was the sentiment of a majority of students. Even self-proclaimed "quiet girl," Madison DuBois, 18, "felt like it was my job to help the teachers." A senior at Kennedy Catholic, DuBois and her mother were both motivated to do whatever they could to help and to show "they have a community who love and support them."
Within a few days, concerns had come to a fever pitch giving rise to a student orchestrated sit-in/walkout protest set for Tuesday, Feb. 18th. ASB leaders reached out to their counterparts at nearby schools as well as other Catholic high schools within the Archdiocese. Students and parents from other schools came to support those at Kennedy Catholic; the response was massive with local news outlets covering the story live as students chanted "separate, church and hate" in front of a banner which read "Who would Jesus fire? #LoveisLove." Days later, a follow-up protest was organized at the Seattle Archdiocese in First Hill.
Through an online and in-person campaign the students demanded the reinstatement of both Mr. Danforth and Ms. Beattie, as well as a public apology. Seattle Archbishop Paul Etienne placed principal Mike Prato on a leave of absence a few days later. In addition, a letter from Archbishop Etienne was sent to the school staff stating, "It is abundantly clear to me that our Catholic schools are serving a much broader community than in the past." The letter also mentions they will be creating a special task force to investigate how to adapt to the current times and meet the needs of all their students.
What is happening at Kennedy Catholic High School is just the latest example of young people coming together and shining a light on the social injustices. These students call out the establishment on their shortcomings and guide them to a better solution.
Sosna Araya, 16, the junior class president at Kennedy Catholic High School remembers with frustration that Mr. Danforth and Ms. Beattie had to hide their rings when they got to school. "I want them to be proud and not be punished for it. It's not fair to love someone and have to hide it."
Eighteen-year-old senior Henry Lemus Vera, who is openly gay and takes pride in being a young social justice activist, felt this conflict needed to be tackled because "activism and social movements are the moral compass of implementing positive change in private institutions like schools." He says, "Having that spark which connects you to other people with shared experiences is so essential with these types of social movements."
The students are now planning on how to build upon the current momentum. Araya says, "Next year, when I'm a senior, I'm gonna try to keep advocating and advocate for people of color too."
With every new generation, these young activists get smarter and even more informed. They get more strategic and goal-oriented. The students understand they need to take steps to change the teachers' contracts, so this kind of discrimination doesn't happen again to another Paul Danforth or Michelle Beattie. They acknowledge their actions are just a first step in a bigger and longer fight.
Teachers like Mr. Danforth and Ms. Beattie help shape these young champions for social justice stand up for what they believe by setting an example. "They gave us the tools to be better people and fight for what we believe in, and to be who we are," says Estacio.
Hernandez adds, "They motivated us to be better people and we are who we are today because of them." That is why these students put their education on the line by risking their scholarships with the school to stand up for what is right.
Throughout all of this, Lemus Vera hopes they "never stray from wanting to work with young individuals." He goes on to say, "They radiate a lot of love and they radiate a lot of intelligence that would help someone going through a hard time."
From local students at Kennedy Catholic High School to Greta Thunberg of Sweden, the voices of these young avengers are only getting louder and stronger by the day and are heard all across the country and around the world. Their voices are young, focused, organized and articulate. They speak about a wide variety of issues, and these young, vibrant minds will be our future leaders.