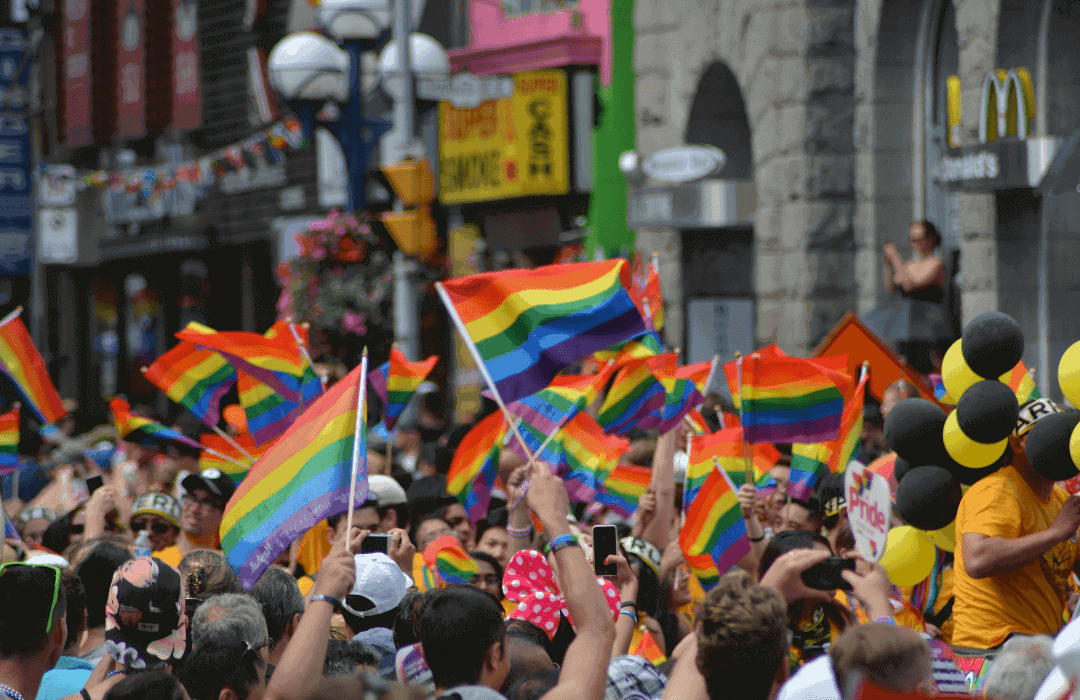 News Seattle
,
Education
How To Be a Good LGBTQIA+ Ally: It's More Than Rainbows
Sep 26, 2022 | Seattle Pride
As our world continues to grow its embrace of LGBTQIA+ identities – and an increasing number of companies publicly tout their support – the true meaning of allyship can get lost in a sea of marketing messages and imagery. While it's great that so many people and organizations are speaking out in support of our community, it's important to remind ourselves of the true meaning of being an ally -- so we've created a helpful guide on how to be a good ally for the LGBTQIA+ community.
Listen with an open mind
Anyone can be an ally – if you put in the work. An ally is someone who has an open mind and wants to keep learning about ways to support the LGBTQIA+ community. This can be done by being a good listener, having candid conversations with LGBTQIA+ members, reading books, and visiting websites. And after hearing the stories of LGBTQIA+ members, being an outward advocate by sharing your support with others will help take your allyship to the next level.
Speak out
Defend the LGBTQIA+ community, speak out against bigotry and let people know you don't stand for discrimination. If you find something offensive or believe someone in the community might find it offensive, openly share your feelings and perspective. Stereotypes and discrimination thrive in silence.
Reflect internally
Confront your own prejudices, even if it's hard to do so. As an ally, there may be times when you come across your own harmful biases that you didn't realize you had. It's important to take time for personal reflection and to try to break through any prejudices that you may have been conditioned to have by society. It's ok to be wrong, it's what you do to correct yourself that brings you another step closer to being a true ally.
Be Aware of Rainbow Washing
We've all seen rainbow washing - as June comes around, suddenly every company's social media logos are rainbow and every ad is pro-LGBTQIA+. Then July begins and like clockwork, all trace of support is gone. While we love businesses that partner with LGBTQIA+ groups and who work to be a true ally to employees and community members, not all of them have the best intentions. Through the practice of rainbow washing, businesses use pride colors to convince consumers that they support the LGBTQIA+ community to market their business as an ally, without having to follow through.
The list of companies involved in rainbow washing is extensive. In June 2022, BMW changed its social media logo for Pride Month in all markets except the middle east; a move to promote their inclusiveness in more progressive markets and save face in those that don't support the LGBTQIA+ community. Rainbow washing is a relatively new marketing tactic but LGBTQIA+ organizations are beginning to catch on. Amazon was recently accused of rainbow washing and denied a title sponsorship in our own Seattle Pride Parade when they were found to support anti-LGBTQIA+ politicians and sell transphobic books on their platform.
Instead of shopping with businesses who participate in rainbow washing, support local LGBTQIA+ owned businesses whenever possible. The Intentionalist provides an easy-to-use way to search for companies and businesses that are LGBTQIA+ owned near you.
Being an ally is simple, and it doesn't take a $100,000 advertising budget, a televised speech or a rainbow filter. At the end of the day being an ally means putting in a true effort to learn, listen and share your support of the LGBTQIA+ community. Anyone can be an ally and we don't want to pick and choose who is and who isn't. All we ask is that your intentions are authentic, consistent, and that you take action to make a positive difference.