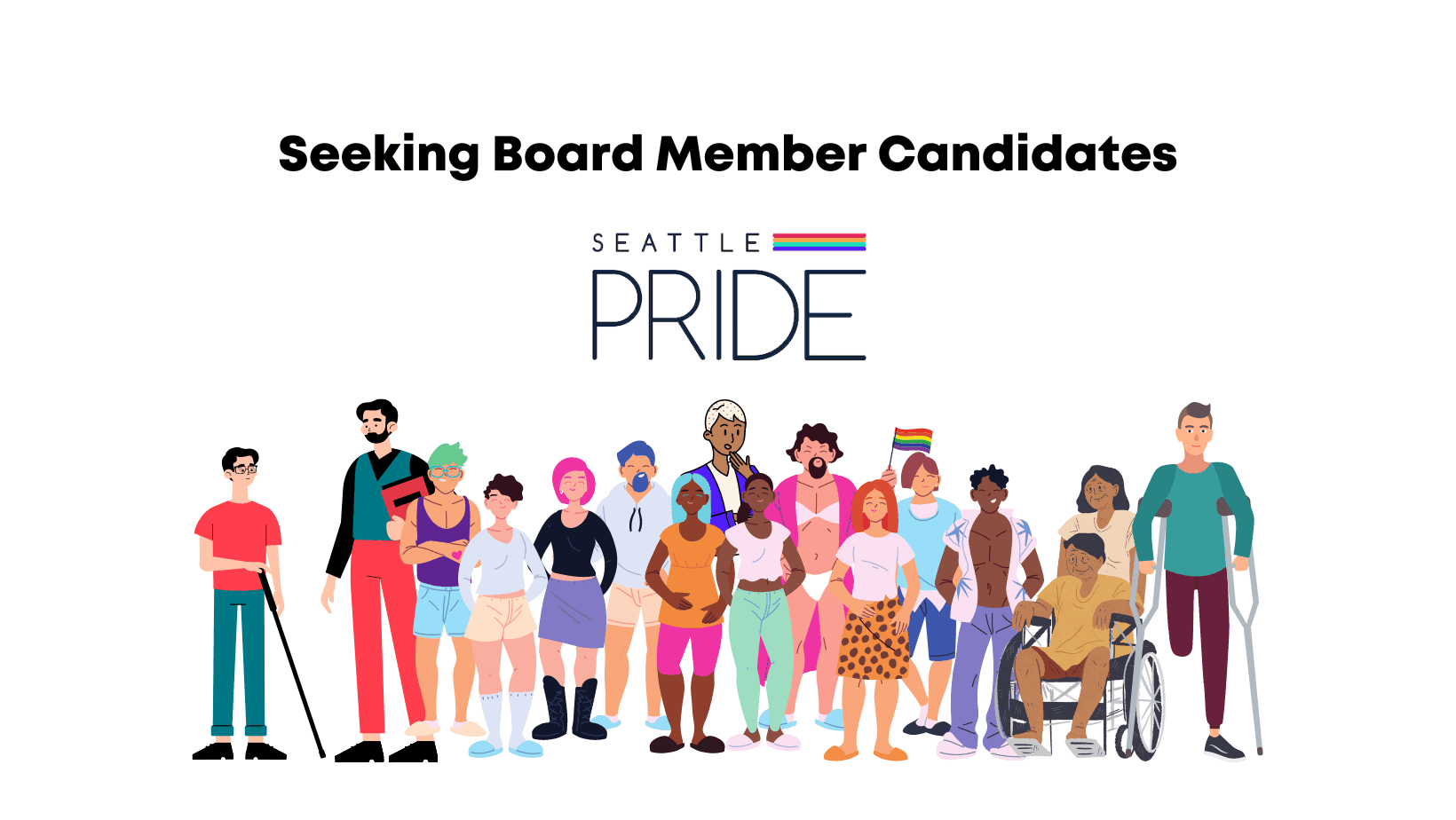 News Seattle
Seattle Pride Seeks Board Member Candidates
Sep 20, 2022 | Seattle Pride
Updated September 20, 2022
Seattle Pride (Seattle Out and Proud) is a 501(c)(4) nonprofit organization dedicated to creating unity, honoring diversity, and achieving equal human rights throughout our region and the world. We are working to build a diverse organization representing the communities we serve, and we are seeking candidates to serve on our volunteer Board of Directors.
In addition to the standard roles and responsibilities of a nonprofit board, our board members are advocates and representatives for the organization. Seattle Pride believes the best way to serve our community is to ensure our community is represented in our organization. Those who reflect the diversity of the region's LGBTQIA+ community are especially encouraged to apply, including those for which English is not their primary language; Black, Indigenous, other People of Color, and Asian Americans and Pacific Islanders; people with disabilities; and transgender, non-binary, and gender expansive folks.
Position
Board of Director Volunteer
Description of roles and responsibilities
Time Commitment
Monthly board meetings, typically lasting 3 hours in duration

Monthly committee meetings (either Governance or Finance), typically lasting 1.5 hours in duration

Annual strategic planning session, typically lasting one weekend

Attendance of significant events, such as Pride in the Park (annually in June), Seattle Pride Parade (annually in June), Pride Speaks (quarterly), etc.
Resource Commitment
Life experience

Community relationships and connections

Passion, creativity, and fearlessness

Volunteer time
Board term:
Four (4) years
Maximum number of consecutive terms:
Two (2)
Residency
There is no requirement to live Seattle in order to be considered for Board membership. However, eligible candidates must be able to attend monthly in-person Board meetings held in downtown Seattle and various in-person community events (primarily held in Seattle).
To Apply
To apply, please send the following either in writing or via video to board.recruitment@seattlepride.org:
Name, pronouns, email address, and phone number

Resume or summary of background and skills

Statement of interest for Board membership

Statement of how your representation on the Board would help to reflect the diversity of the region's LGBTQIA+ community
Applications will be accepted on a rolling basis. The next round of in-person interviews will be held in mid-to-late October. Interviewed candidates will also be expected to attend the in-person Board meeting on November 2nd at 6:00 pm at the Seattle Pride offices in order to meet current Board members and staff. In order to ensure consideration for this next round, please submit application materials by 5:00 pm on October 15th. Submittals after this date may be considered as part of future rounds.
Seattle Pride will work to provide appropriate training to prepare new board members when they join the organization. The organization will attempt to make accommodations for those who speak other languages and/or have variations in other abilities. Please be patient if we need additional time for translations.