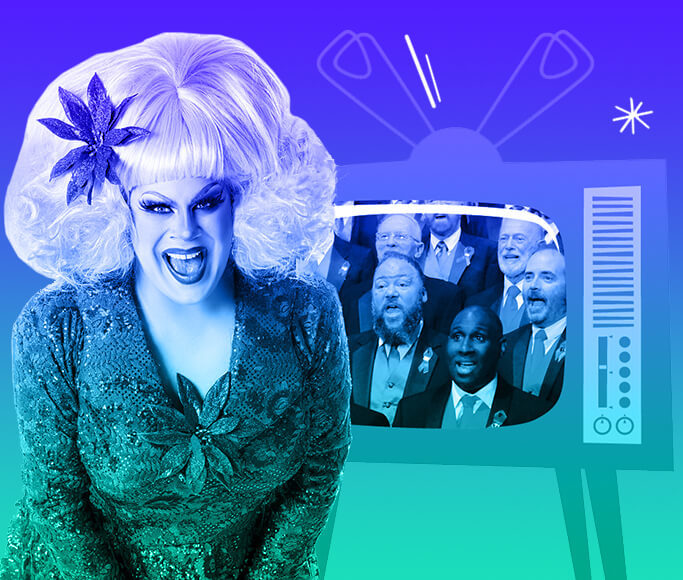 News Seattle
Ideas for Making your Yuletide Gay
Dec 19, 2020 | Seattle Pride
We may not be holiday party-hopping this year, but there is still plenty of virtual fun to bring some "ho-ho-ho" to your home.
Here are some can't miss festivities:
The Duke's Swing-Along Nutcracker – Rainbow City Performing Arts presents their take on a holiday tradition, The Nutcracker – a swing version by Duke Ellington. This virtual performance features the group's Purple Passion Swing Band, its full Concert Band, and its Percussion Section.
Tickets are FREE, but registration is required for this virtual performance.
Dec. 20 @ 2pm.
The Dina Martina Christmas Show – Tis the season for one of the most surreal and hysterically funny Christmas shows ever. Join "The Second Lady of Entertainment" as she welcomes you into her home and fills you with a distant facsimile of the holiday spirit. Marvel at her fireside chats; question her fashion choices; sit with her at the dinner table and listen in awe as Dina Martina and lauded music man Chris Jeffries "interpret" Christmas songs of all kinds.
Get your tickets here!
Online shows run through Dec. 27th
The Jinkx & Dela Holiday Special – The story of two queens who set out to create a classic Christmas TV variety show, but just can't agree on how. BenDeLaCreme's high-camp, side-splitting romp is equal parts sacrilegious and sweet, with a sharp tongue and a heart of gold. The Jinkx & DeLa Holiday Special is sure to be a new holiday tradition for all the lost toys who know that the best traditions are the ones we create ourselves.
Available to stream on-demand now!
Jingle All the Gay . . . A Very Virtual Queerantine Christmas– In the tradition of Homo for the Holidays, Kitten N'Lou have cooked up the most deliciously queer and delectably extravagant holiday confection Seattle has ever seen, featuring the biggest all-star cast yet of both familiar and new Faces . . . guaranteed to make even the most stubborn yuletide gay!
Available to stream on-demand now!
Online show runs through Jan. 2.
Scott Shoemaker's War on Christmas – A hilarious holiday variety show with Scott Schoemaker and a cast of Seattle luminaries as they try to figure out who's fighting a war on Christmas, and what for? The show is packed with comedy, songs, dance numbers and partial nudity – along with some of previous years' favorites. Be warned, this show is definitely on the naughty list!
Available to stream on-demand now!
Online show runs through Jan. 4.
Seattle Men's Chorus Holiday Special – This holly-jolly variety show, hosted by RuPaul's Drag Race star Nina West, weaves together beloved carols filmed from all across the region with Nina and her puppet friend (Holiday Herald) racing against the clock to bake the perfect fruitcake.
Available to stream on-demand now!
Online show runs through Dec. 31.
T-Mobile New Year's at the Needle – This year's virtual celebration, presented by T-Mobile, will burst through your screen, ushering in the new year, with a never-before-seen virtual spectacular! The show will feature striking visuals in a wondrous display of digital effects, engineered to bring you bigger thrills than ever before. Using sky-mapping technology and real video footage, the Space Needle will be layered with immersive, digital artistic expressions to create an illusion of color and wonder surrounding the Needle and the skies above.
View for FREE on KING 5 or stream online at www.spaceneedle.com/newyears
Dec. 31 @ 11:35pm
Dragapalooza – Start the new year off with this livestream concert featuring a cast of international celebrity drag queens who sing live and are backed by a world-class band led by Grammy-nominated producer Chris Cox. Your ticket gives you access to watch the entire show live in real-time, plus a 72-hour replay window to watch again and again!
Get your tickets here.
Livestream begins Jan. 16 @6pm
Enjoy – and happy holidays from all of us at Seattle Pride.